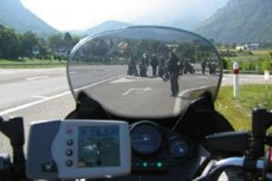 "... with my eyes glued to my paper notes, I didn't see the car in front of me stopping"
Denis Molinet
Hi,

As someone who enjoys touring on a bike (TDM900), I would prepare my itineraries on road maps, fill a sheet of paper with instructions and symbols and put the whole lot into the map-reader in my pannier. And then one day, I had a huge scare: with my eyes glued to my notes, I didn't see the car in front of me stopping. Emergency stop, just made it, phew! I also had the nasty surprise of suddenly coming up against a few bends at the last moment. In short, safety-wise it wasn't great. Plus, when it rained, my notes tended to get somewhat soggy ...
Through the Internet, and with the advent of the GPS, I started looking for a reliable system that would be a much better solution to these notes. At the time, conventional GPS systems weren't right for me: short battery life, an itinerary designed by the system, probably not waterproof (?), difficult to use on a bike (gloves). I didn't want voice directions, nor did I want to have to get into DIY to adapt a GPS to the bike.And then I discovered TRIPY. This system corresponded to exactly what I was looking for. I bought one.
The software is very simple to handle and easy to learn. The only really crucial thing is to be very careful when writing roadbooks (RBs). This avoids reading "misdirections". Despite these errors, the TRM soon gets you on the right road and heading in the right direction.Now you virtually never stop looking at the road and surroundings, and no voice to distract your attention. All that makes you feel very safe.
To sum up, I am totally won over by the system and you wonder why it wasn't invented sooner.
Thank you!
Denis Molinet
---
Our promises

Thousands of satisfied users


Delivery with parcel tracking


Technical support 5/7


TheTripy II GPS is guaranteed for 5 years!


Unbeatable PRICE-PLEASURE ratio!


100% secure online payment


---
Keep up-to-date about our new offers

Simply give us your e-mail address and we'll send you details of our latest offers, promotions and new products.
Subscribe
---