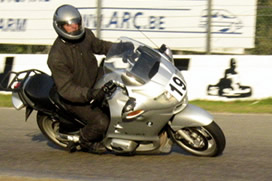 "Tripy perfectly epitomises the level of pleasure / freedom that's special to biking"
Bruno de Séré
A superb product, easy to use, fun and very easy to read.
You know where to go in a flash and it's ideal for bikers who need to focus their attention on the road and on driving.
Biking is a supreme joy and Tripy perfecty epitomises the level of pleasure / freedom that's special to biking.
A Tripy ride is a suggestion you accept, a mini adventure, a compromise between rigour and freedom that fits in perfectly with motorcycling principles.
In short, riding with Tripy is a smart ride.
Tripy is also great for quad bikes and cars.
The "Roadtracer" software combined with the topographical mapping provides the perfect recipe for first rate trips. If you have a thirst for discovery, dive into the "roadbook library" and you'll find hours of great rides in there.
Lastly, the team and customer support are great.
Bruno de Séré – Bend specialist – BMW 1200 GS
Bruno de Séré
---
Our promises

Thousands of satisfied users


Delivery with parcel tracking


Technical support 5/7


TheTripy II GPS is guaranteed for 5 years!


Unbeatable PRICE-PLEASURE ratio!


100% secure online payment


---
Keep up-to-date about our new offers

Simply give us your e-mail address and we'll send you details of our latest offers, promotions and new products.
Subscribe
---