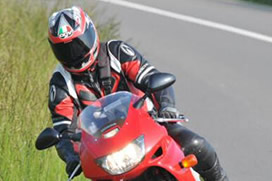 "Tripy II came up with a roadbook for me full of beautiful little windy roads"
Dany Nihoul
In March, I learned that the new Tripy was virtually ready and would soon be on the market.
After several months of waiting impatiently, the Tripy II was finally available in August.
So I bought it and tested it out. I was delighted from the very first time I used it.
On my Tripy II, I planned a route from Nismes to my home (Namur region, 80km) via scenic routes and it came up with a roadbook full of beautiful little windy roads.
The next day, I asked my Tripy II to work out a return trip (Momalle to Namur 40 km), but this time via major roads. And here again, I got a fabulous roadbook taking me on winding roads and avoiding the motorways.
So well done to the Tripy team for improving on RoadMaster 1.
Dany Nihoul
---
Our promises

Thousands of satisfied users


Delivery with parcel tracking


Technical support 5/7


TheTripy II GPS is guaranteed for 5 years!


Unbeatable PRICE-PLEASURE ratio!


100% secure online payment


---
Keep up-to-date about our new offers

Simply give us your e-mail address and we'll send you details of our latest offers, promotions and new products.
Subscribe
---