An extensive range of accessories
Your Tripy II GPS knows what you need: a wide range of options and accessories for enhanced usage.
Everything you need for easy installation is already included in the packs but you may want:
other non-standard solutions for setting up your Tripy II GPS (suction cup, cigarette lighter adapter, etc.)
more attachments so that you can use your Tripy II GPS on more than one vehicle
to replace a charger or missing cable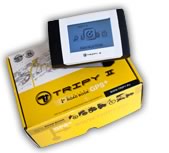 Tripy II GPS packs always contain:
the Tripy II GPS (Europe or France)
+ RoadTracer Pro software
+ li-poly battery pack
+ usb cable & connector & charger
+ 2 coloured front panels
+ 4 ram-mounting systems: 6001, 6004, 6073, 6072.
View the full list of accessories here
.
Tripy II GPS
RoadTracer Pro
.
The community
---
Our promises

Thousands of satisfied users


Delivery with parcel tracking


Technical support 5/7


TheTripy II GPS is guaranteed for 5 years!


Unbeatable PRICE-PLEASURE ratio!


100% secure online payment


---
Keep up-to-date about our new offers

Simply give us your e-mail address and we'll send you details of our latest offers, promotions and new products.
Subscribe
---