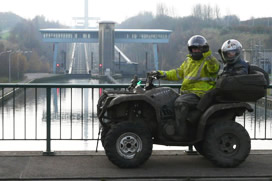 "I'm sure of a good ride on approved routes!"
Benoît Schoonjans
I've been an inveterate quad biker for several years now and I used to spend a huge chunk of my time looking for trails,first on a map, then on the ground, having to turn around on many occasions, but ever since I broke open the piggy bank, I now track routes on my PC and then throw myself not into adventure any more, but into reading.
I'm sure of a good ride on approved routes!
With Tripy, my leisure time has taken on a new lease of life.
Benoît Schoonjans

"Andalucia Classico, 18 to 24 April 2010: Regularity Rally"
Eddy Borremans - Read more...

"An extremely entertaining and intuitive tool ..."
Michel Scholtes - Read more...
---
Our promises

Thousands of satisfied users


Delivery with parcel tracking


Technical support 5/7


TheTripy II GPS is guaranteed for 5 years!


Unbeatable PRICE-PLEASURE ratio!


100% secure online payment


---
Keep up-to-date about our new offers

Simply give us your e-mail address and we'll send you details of our latest offers, promotions and new products.
Subscribe
---